Me and my ex wife started with a dog that has a history ,
she was 1.5 years old and a mix of bouvier and groenendael.
It was a very difficult job to socialize her, at any cost ( fridge , door , curtains , carpet,etc....)and time.
At the end of her live 10,5 years old she died through parvo.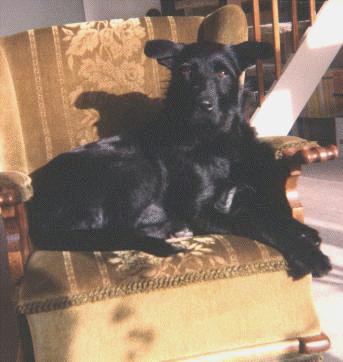 We did buy our first tervueren just for around the house,
till some day the breeder of GINNO asked us for showing GINNO
on the Dutch specialty, now GINNO has been at more than 50 shows
with good results.
When GINNO was 2 years old we bought our second tervueren
from the same mother as GINNO.
MAGIC was not good enough for show so we did obedience with him
and he liked it very much.
In the years with GINNO and MAGIC we became
so completely crazy about tervueren that we decided to start breeding .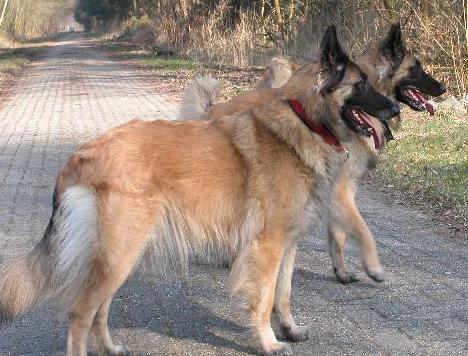 photo by H.LVersnel 2003
So we bought our 3th tervueren this time a female
also from the same breeder but with a new blood line.
Our first litter is born at 03-11-1999 (Ch Debelisi Barox & Ch.Only Queeny)
Our second litter is born at 16-11-2001
(Ch.Qwinten van´t Sparrebos & Ch.Only Queeny )
At Jun´02 Queeny received her last point for Germany and became
Deutscher Champion (VDH) Only Queeny van de Schagerwaard
Out of the second litter we kept Bijou Queeny and Blitz Qwinten,
our Third litter is born at 29-01-2004
(Sr.Azigo van de Hoge Laer & Bijou Queeny Of Ginno's Home)
Out of this litter we kept the sable/gray female Cheyenne Bijou .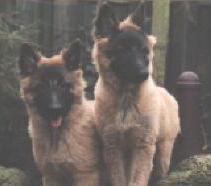 At the age of 11 I lost an important member of my family,
I began to have terrible nightmares and then I couldn't fall sleep anymore.
After many medical checks and medicines a friend suggested to my parents to buy a dog.
We bought a dog and I could sleep without any problem, Brest was a medium puddle.

He was born in a unlucky nest, 6 of his brother and sister died and only 2 puppies survived.
Brest was quite and loved to be at home, since he was a puppy he had epileptic fits,
unless many visits to the vet we never found a reason for the attacks.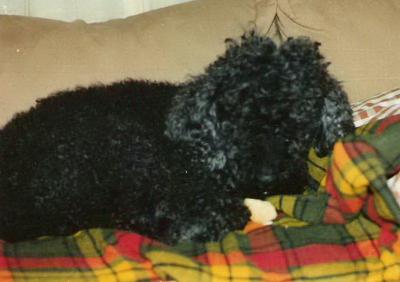 At the age of 14 we had to let him go to the bridge, due prostate cancer.
I always loved animals and when my daughter was born I wanted to buy a dog,
but we visit my family in Italy very often and we couldn't take the dog with us all the time.
After my divorce I met Herman and now we live together and the little girl is crazy about the dogs.